Mike Stricker
DYNAMIC, Founder / President
"Coach Strick" has a relentless passion for the Lord, family, leadership, coaching, and life-changing impact on & off the field.
Mike Stricker started DYNAMIC in 2003
Mike is married to Caroline Stricker and they have 4 children (Jason, Sarah Kate, T.J., Alex)
---
Favorite Movies - Pursuit of Happyness, War Room, Courageous, Braveheart, and Miracle "Story of the 1980 U.S. Hockey Team" Favorite Music Artist/Songs - Elevation Worship ("Resurrecting"), Bethel Worship ("Take Courage"), and Chris Tomlin ("How Great Is Our God - World Edition Live") Favorite Vacation Destination - Venice, Italy Favorite Books - The BIBLE, The Calvary Road, Above the Line, The Winners Manual Favorite Apps on your phone - The BIBLE, ChickFila, ESPN, Liberty Flames Football, Ohio State Buckeyes Favorite College Teams - Liberty U. Flames & The Ohio State Buckeyes Favorite Pro Teams - Carolina Panthers, Cincinnati Reds, Charlotte Eagles Soccer
---
---
Founder/President, DYNAMIC Performance Sports - 2003-present Founder/President, DYNAMIC Scholarship Fund - 2009-present Founder/President, DYNAMIC Leadership University - 2011-present Graduate of The Ohio State University (Columbus, OH) - 1994 NFL Training Camp Tryout Kicker (NFL Atlanta Falcons, 2000, Kickoff specialist) & Kicked professionally in the NAFL (Carolina Cowboys 1999-2000). Over 20 years of professional & high school varsity coaching experience (Football, Soccer, Basketball & Tennis) - 1991-present. Special Teams Coach U.S. Army All-American Football All-Star Games - 2011 - 2014. Special Teams Coach Team USA vs. Team Canada and Eastbay All-American Football Games - 2011 - 2014. Special Teams Coach FBU Regional & National Top Gun Football Camps - 2011 - 2018. Kicking Specialist Coach with Chris Sailer National Kicking Camps - 2015 - 2018 Varsity Football Coach (Special Teams / K/P) - Marvin Ridge HS - 2010 - 2018 Varsity Football Coach (Special Teams / K/P) - Ardrey Kell HS - 2007 - 2009. Head Varsity Soccer Coach - Butler HS - 2000 - 2005. Varsity Kicking Coach - Butler HS - 2000 - 2005. Head Coach Premiere Club Soccer Teams (Matthews SC, Charlotte United FC, Club Ohio Premiere) - 1993 - 2004. Consultant & Chaplain with Carolina Sports Outreach (NC/SC) - 1999 - 2004. Midfielder & Defender with Charlotte Eagles Soccer Club (European Tour Player & Charlotte Eagles Amateur Team) - 1996 - 1999. Taught Physical Education in North Carolina and Ohio (Elizabeth Traditional E.S. & Gahanna H.S.) - 1994 - 1999. Awarded the Physical Education Teacher of the Year Award by Charlotte-Mecklenburg Schools - 1999. Selected to All-Ohio State All-Star Soccer Game (Defender, Captain - Greenhills HS) - 1990. Speaker on Leadership, Faith, and Coaching at conventions, schools, retreats, conferences, and regional events. - 1990 - present.
---
1 Thessalonians 2:8 - "We loved you so much that we were delighted to share with you not only the gospel of God, but our very lives as well, because you have become so dear to us."
Dan "DZ" Zeidman
DYNAMIC, V.P. - Pro Coaching & Missions
"Coach DZ" is a faith-filled, purpose-driven, family-oriented leader, athlete and professional coach. DZ accomplished high-level career goals in college and in pro football (earning NFL training camp tryouts with multiple NFL teams). DZ has worked with DYNAMIC as a professional Kicking Coach and Mentor/Leader in Leadership University since 2016. Dan is passionate about equipping student-athletes to reach their God-given potential!
Dan Zeidman signed as a free agent to punt in the NFL, and has kicked/punted in smaller pro leagues like the Arena Football League and National American Football League. Dan, and his amazing wife Becca, have served together with DYNAMIC Leadership University and taking student-athletes to HAITI to live life to the fullest (John 10:10).
---
---
---
Pro DYNAMIC Kicking Coach and owner of Lifetime Kicking Academy. Signed a free-agent contract to punt in the NFL with the Carolina Panthers. Also had punting tryout with NFL Cincinnati Bengals. Serves as a V.P., Director, and Mentor/Leader in DYNAMIC Leadership University. Leads DYNAMIC's outreach trips to Haiti with his wife, Becca. Dan and Becca have a heart for the nations!! Directs Regional Kicking/Punting Camps for college and elite HS K/Ps all across the country. Graduate of Idaho State University.
DYNAMIC Board of Directors
DYNAMIC is blessed to have a long history of outstanding Board Members who have served the ministry well since 2003.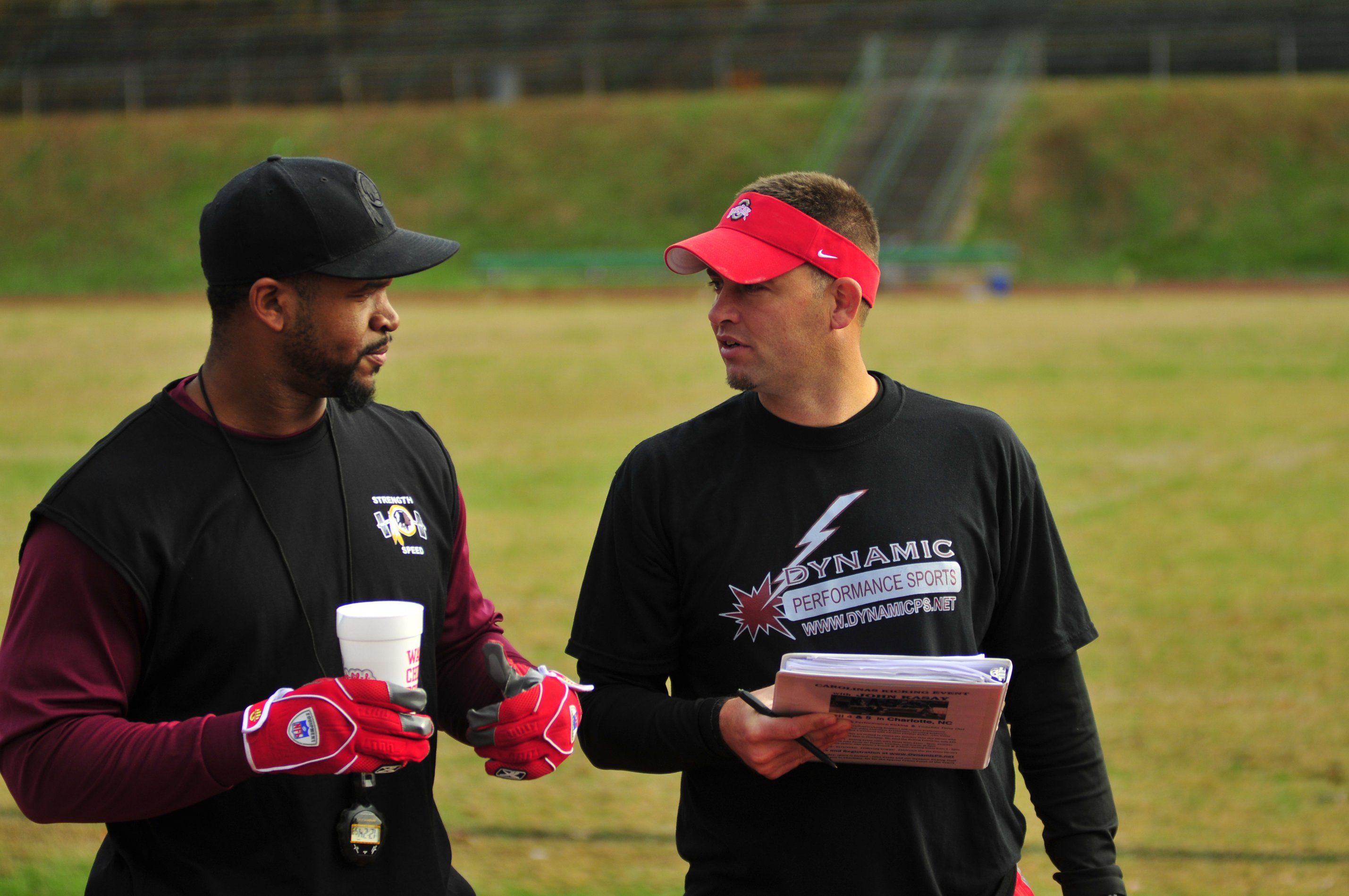 "The DYNAMC Board" is the backbone of our ministry in the Carolinas. The members of the Board serve the ministry by providing oversight, direction, accountability and help with fundraising..
Nelson Garner, Eric Shelton, Daniel Zeidman, Pete Calamas, and Jeremy Boone currently serve on the Board with the Strickers.
---